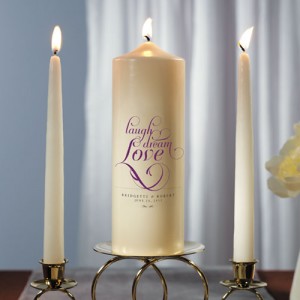 Often a unity candle is decorated with the wedding invitation, an inscription, a picture of the couple, or other ornamentation. The candles are almost always white. The lighting ceremony may be accompanied by special music, an explanation of the symbolism, or just some period of mutual gazing by the happy couple. In some circles, it is customary for the couple to save the unity candle and relight it on anniversaries.
For a unique variation of the traditional wedding consider a unity candle wedding ceremony. This is a growingly popular alternative because it carries a meaningful expression in a wedding. The unity candle ceremony symbolizes the union of two hearts. Weddingstar has a great selection of unity candle candles to match your personal style and wedding theme. If you are looking for something simple and elegant then you will love our suspended heart unity and taper holders. These romantic silver-plated candle holders are perfect for the unity candle ceremony and are destined to be a cherished keepsake for years to come. With our various colors and designs you're sure to find the perfect ceremony set for your big day.
Traditional Unity Candle Ceremony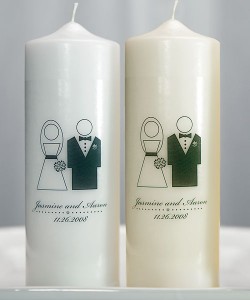 In a traditional Unity Candle Ceremony one person from the brides side and one from the grooms side (usually the the mothers fill this roll) will will walk down the aisle and  approach the two tapers on either side of the unity candle and light them.  This represents the Bride/Groom as they are before the ceremony.  This is done right before the ceremony officially begins. Later in the ceremony (usually after the formal vows), the bride and groom use the two taper candles to light the large pillar (unity) candle together.
During the ceremony this is a traditional Unity Candle passage
"___________________ and ________________ the two lighted candies symbolize your separate lives, your separate families and your separate sets of friends. I ask that you each take one candle and that together you light the center candle.
The individual candies represent your individual lives before today. Lighting the center candle represents that your two lives are now joined to one light, and represents the joining together of your two families and sets of friends to one."
(You can also involve children in the unity candle ceremony )
Non-Traditional Unity Candle Ceremony with the lighting of the tapers during the ceremony.
Will the parents of our bride and groom please come to the altar and light candles representing the separate families and pasts from which (bride) and (groom) have come today to be joined together as one?"
(Parents come to the altar and light their tapers. after lighting the tapers they return to their seats)
"Above you below you, forever surrounding you shall be the pledge you make unto each other today. The constant friendship of your hearts. The passion and fire of your spirits and the deepest love your souls have to give. It is the pledge of all that is within you. The only true pledge that one heart can offer to another."
(Bride and Groom approach the unity candle)
"You are now as Husband and Wife offering yourselves, and all that has come to pass unto each other, towards the creation of your future, and to all that is yet to come."
(They join hands & light the center candle together, creating the circle of life. They then place the tapers back in their holders, and snuff their flames.)
"The light that remains is the light of God's love, the light in which you shall be forever as one."